Yes, we know that this should have been posted back in December, but we were a bit busy on other things.
Here's the sum of updates since our last wrap-up back in May of 2020:
Component updates
Core updated to vesion 1.14.3.12:
Improved SQL injection checker.
Added excerpt builder warning fallback.
Added a fallback for trailing zeroes trimming function warnings.
Bumped ion sound version.
Added method to the settings helper class.
Extended CLI helper to output to an extra file if specified.
Limited the notifications getter to fetch only the last 100.
Settings manager updated to version 1.9.2:
Added options to the user level selector.
Log viewer updated to version 1.2.1:
Tweaked live view invoker to allow viewing subgrouped logs.
News miniwall updated to version 1.2.1:
Added missing check to disable the widget.
Libraries pack updated to version 1.1.4:
Removed forced caching from ion sound.
Widgets manager updated to version 2.1.1:
Relocated toolbox instantiation to avoid conflicts with other modules.
Triklet module updated to version 1.26.2:
Added a check to prevent email loops.
Added missing pointer to webmail mini-client link.
Tuned attachment files naming.
BardCommerce module updated to version 1.2.0:
Added exportable category lists.
Added encoding fallback to the RSS feed generators.
Added JSON exportable browsing mode for shops.
News Miniwall module updated to version 1.2.0:
Added option to show the widget on popup layouts.
Added Spanish translation.
Added bottom margin when the widget is visible to avoid overlapping controls.
Added disabling capability.
Hardcoded pages module updated to version 1.2.0:
Added mnemonic path filtering on the documents browser.
Tuned the layout for big displays.
Fixed issue that caused loosing creation date and author when saving documents.
Added shortcode handlers.
Added page tag to the docs browser.
Added sorting control to the docs browser.
New free template released: Universe20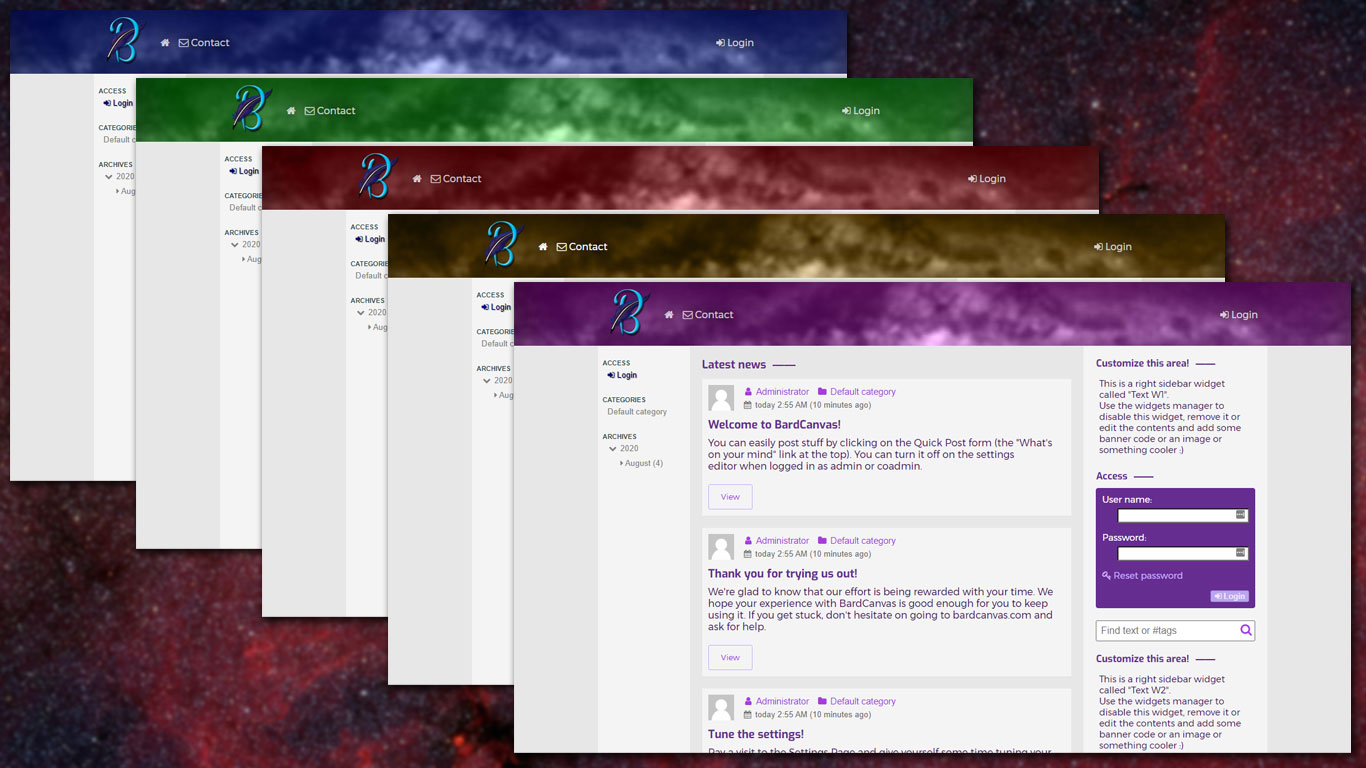 For quite some time, a handful of users have been begging us to release a new, multi-functional template.
So we took some elements from two beautifully crafted templates made by and exclusively for two side projects and mashed up this template.
You can install it for free on your BardCanvas instance! Click here to open the template page.